Miracle's Mission is a non-profit animal welfare organisation that works with sick, injured and disabled animals worldwide
Our mission is to provide a place of safety for animals in danger, to educate on the needs of neutering both pets and strays and to neuter stray dogs and cats to prevent the birth of more animals onto the streets. We also rehabilitate and re-home dogs in need, often with disabilities, from our UK rescue base.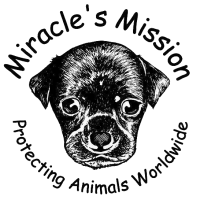 About Us
Miracle's Mission is a UK registered animal welfare charity working to provide safety and support to animals in need worldwide. Working predominantly in the UK, Borneo & Egypt; Miracle's Mission is ever expanding to help animals in need wherever we can.
Miracle's Mission was founded by a board of trustees in 2015, after a trip to Borneo raised awareness of the severity of the street dog population. Working with animal shelters over there, it became apparent that whilst these shelters were caring for the animals, the root cause was yet to be addressed. Allowing un-neutered cats and dogs to roam the streets meant that puppies and kittens were being born onto the streets at an alarming rate, with a grim life ahead of them. Therefore Miracle's Mission came into existence with the main aim to neuter stray animals on the streets of Borneo and decrease the population of dogs and cats suffering.
Miracle's story
Miracle was rescued from the streets of Borneo at 1 week old before her tiny eyes were even open. She was found with her siblings in a very remote area, where they were likely abandoned and were very unwell. The puppies were full of maggots, with ringworm and blood parasites. Unfortunately, Miracle's siblings did not make it.
Miracle was cared for and she had a very long road of recovery ahead of her. She had several injuries and was very weak but she made a miraculous recovery and is now strong, happy and healthy living with her adopted sisters Star and Tess, who were also rescued from Borneo. Her aim is to aid in saving many more animals in need around the world.
Miracle is the namesake of our charity, and her story is similar to many others around the world. However, not all of these animals end up being as lucky as she was and finding a loving home where she is spoilt rotten!